à la Mutt hosts Dental Days the 2nd Friday of every month!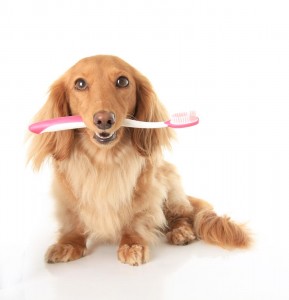 According to the American Veterinary Dental Society 80% of dogs and 70% of cats by the age 3 show signs of periodontal disease. Without proper dental care for your pet they may develop gingivitis (plaque build-up on teeth and gums that may appear red and swollen). This can progress to further oral diseases such as periodontal disease and loss of teeth.
Imagine how your teeth would look and feel if you didn't brush them daily. The same applies to your pets' teeth. Bad breath and stained teeth are unappealing, but many pet owners aren't aware that these may be symptoms of serious gum disease. Pets just like your human children need daily oral care. We know that is a challenge so we are here to help!
Natural Cleaning provides anesthesia-free dental care to dogs and cats under the supervision of licensed veterinarian the 2nd Friday of every month. Antibiotics may be recommended and available on Dental Days. Should your pet need extractions, have health concerns that require anesthesia, or simply not allow the hygienist to complete the cleaning, you will be advised to see your vet. For example if you pet is a senior, over 7 years old and has never had their teeth cleaned, we may advise you speak to your vet, deep clean the teeth and gums, and then see us for a maintenance plan to help keep their teeth in great shape for years to come. Feel free to visit us for a free consultation. Reservation required please.
Remember that we (humans) all get cavities eventually. Even after years of home & natural care, do not be surprised if your kid eventually visits their vet and needs a deep clean including extractions. You brush your teeth twice a day and floss and still your Dentist had to recommend a crown, root canal or even an extraction with implant – it hurts me to think about it – but we all get through it. Ignoring the problems may only make it worse. The same goes for our pets.
Dental Day w/ Exam: $130
Maintenance Plans
Monthly: $30
Every Other Month :$65
Every 3 Months: $105
After your visit with your vet or hygienist, begin your routine. Brush your pet's teeth when they are calm and relaxed. Work up to brushing daily. If the mouth is healthy, even three days a week can make a difference. Without brushing, plaque can build up, putting your dog & cat at risk for bad breath, gum disease, and tooth decay.
Request a RESERVATION today!