Welcome and thank you for visiting us! We hope you enjoy your stay. Lift your paw if you have any questions and we will be sure to assist in any way we can. Whether you are new to the neighborhood or would salute Bob Hope at Paty's Restaurant years ago, we would like to share our favorites with you. Please visit our Resources page to find local recommendations from dog walkers to dentists.
A bit of history…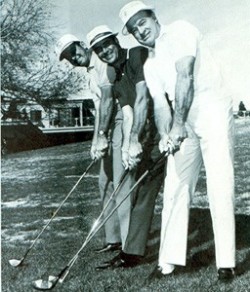 In early in 1923, the present Toluca Lake area was a flourishing ranch, famous for its lush crops of peaches, apples and walnuts and known as the Forman Toluca Ranch.  The first home was built on Valley Spring Lane near the Lakeside Clubhouse and was later to become the home of Amelia Erhart, the famous aviatrix.
Among film stars who first came to make their homes in Toluca Lake were Richard Arlen, W.C. Fields, Bob Hope, Ann Blyth, Bing Crosby, Frank Sinatra, and Mary Astor. The next generation were Zazu Pitts, Ruby Keeler, Wayne Morris, Frank McHugh and Rudy Valle. Then came Gene Autry, Jimmy Brown, Keeley Smith, Dana Andrews, William Holden, Jack Carson, Dorothy Lamour, Doris Day, Red Foxx, Tennessee Ernie Ford, Ozzie, Harriet, David and Ricky Nelson, Wendell Niles, Sr., Audie Murphy, Jim Nabors, Sandra Dee, Bobby Darin, David Janssen and Tex Ritter. Then John Ritter, Joe Campanella, Frankie Avalon, Fabian, Andy Griffith, Jonathan Winters, Mala Powers, Ken Berry, Jackie Joseph, Goldie Hawn, Denver Pyle, Garry Marshall, Paul Henning, Roger Perry and JoAnn Worley, James Garner, Angela Cartwright, Clint Howard, Donny and Marie Osmond, Robert Fuller, John Davidson, Linda Henning, Henry Winkler, Ron Howard, Dudley Moore, Alan Thicke, Swoosie Kurtz, Denzel Washington, Andy Garcia and others.
From the first business building – then a plumbing shop – the business community has grown into a row of fine shops, restaurants, medical and business offices, and exclusive specialty shops. This is Toluca Lake: a colorful community of dignity, charm and hospitality. Visit http://www.tolucalakechamber.com for more information.